May 20, 2017
Do you have a memory of a past life?
Discover an amazing phenomenon that has not been widely discussed or studied―some people have a conscious spiritual awareness at birth that is mature and clear. Diane Brandon who is an Intuitive & Author of "Born Aware" explores effects of having been born aware, what we can learn from this phenomenon, and the implications for human consciousness and spirituality.
This innate awareness has affected Diane Brandon's life in remarkable ways, and this book chronicles her experiences and her efforts to find and learn from others who have been spiritually aware since birth. Using stories and her own insights, Diane shows you how to access your own spiritual awareness, even if you weren't born aware.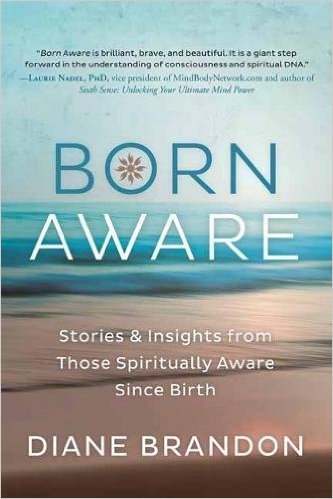 About Diane Brandon
Born and raised in New Orleans, Diane Brandon has been spiritually aware since birth (literally), has had a lifelong interest in metaphysics, and has been an avid student of it for over 45 years. She has been a member of Intelligentsia Metaphysica, Mensa, Institute of Noetic Sciences.
She is an alum of a high school for academically gifted in New Orleans (Benjamin Franklin Senior High School), has an A.B. in French from Duke University, did Master's work at the University of North Carolina at Chapel Hill in Radio, Television, and Motion Pictures, and attended TUTOR, a language institute in Geneva, Switzerland for French studies.
Diane hosted "Naturally Vibrant Living with Diane Brandon" on Web Talk Radio and Blogtalkradio.com and "Vibrantly Green with Diane Brandon" on Ecology.com, in addition to appearing as a guest on several radio and TV shows nationally. She has regularly appeared as a guest dream interpreter on the syndicated radio show, "Your Time with Kim." She formerly hosted "Living Your Power" on the Health & Wellness Channel of VoiceAmerica.com. Diane has facilitated a seminar on Business Intuition at the Rhine Research Center, in addition to speaking on dreams there, and has spoken on Intuition at the Mensa Annual Gathering.
Diane's Intuitive Counseling work led to writing. She's cited in "The 10 Most Common Nightmares Interpreted" in Business Insider and has contributed articles to Connexions ("Wholism and the New Age," "Guided Meditation and Regression," and "Paths to Empowerment"), Innerchange Magazine ("The Dance of Personal and Spiritual Growth: Syncing Up the Levels," "Experiential Spirituality and Contemporary Gnosis," "Shamar's Journey of Love," a children's story, "Heart-Centeredness: A Healthy and 'Whole'some Meeting of Science and Spirituality," "Unwrapping the Wonderful Gift of Dreams," "Musings On Ghosts, Apparitions & the Veil Between Realities," "The Misguided Imperative to Be Positive," "Intuition - An Intuitive's View," "Befriending Your Other Self -- Plumbing Your Depths and Amplifying Self," and "The Loss of Two Beloved Giants"), to The Art of WellBeing ("Exploring Your Dreams for Wellness"),and The Journal of Tar Heel Tellers ("Vocal Tips for Storytellers"), and is a Contributing Author to The Long Way Around: How 34 Women Found the Lives They Love (© 2000, Carolina Women's Press) and Speaking Out! (© 2005, Insight Publishing).
She's the author of Born Aware – Stories and Insights from Those Spiritually Aware Since Birth, Dream Interpretation for Beginners -- Understand the Wisdom of Your Sleeping Mind, Intuition for Beginners -- Easy Ways to Awaken Your Natural Abilities, and Invisible Blueprints: Intuitive Insights for Fulfillment. She has also written insight pieces on "The Aftermath of Hurricane Katrina," "Choosing Hope—Some Thoughts on September 11, 2001," and "Disasters in Myanmar/Burma and China — Thoughts and Lessons."
Diane is also a Corporate Consultant, as well as an Actor, Singer, Voice-Over Artist, and Voice Teacher and is included in the 1997-1998 Silver 25th edition of Who's Who in the South and Southwest.